Perusing Ben's Bargains today brought me this little gem.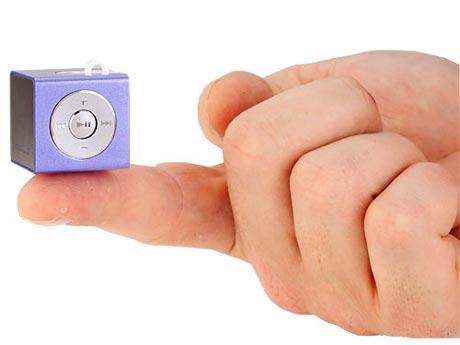 Less than an inch on any given side, it still holds 1 GB of data. It also reports about 10 hours of battery time, an FM radio, intense voice recorder (approx. 520 minutes at 64Kbps), and sweet OLED (Organic Light Emitting Diode) display.
Wal-Mart currently has them on sale for $129.72 (in many different colors).
From what I can tell, it is pretty comparable to the 1G iPod Shuffle in terms of price, weight, output frequency, and capacity. It is a little over 28% smaller, has 4 hours less battery time, and plays WMAs. The big benefits seem to be that it has a (sweet) display (the Shuffle doesn't have one at all) and a very capable voice/radio recorder (again, the Shuffle lacks one entirely). The potentially huge drawback is the headphone impedance, which is 16 Ohms, as compared to the Shuffle's 32 Ohms. Does anyone know practically if/how that would matter?
Anyway, it's exciting to see significant steps in miniaturization. And this definitely is one.