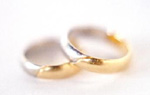 Another congratulations, but this time to cheer on my good friends, Andy and Bethany, in their engagement to be married!
Andy proposed to Bethany as the clock struck the New Year of 2005 (give or take some tens of seconds) – very romantic.
I was also pleased and quite honored this morning to accept Andy's invitation to be the best man (obviously a misnomer). Thanks, Andy! I'll do my best to be the bestest best man you ever did have…
I look forward for great things to come in your marriage together – congratulations, you two!